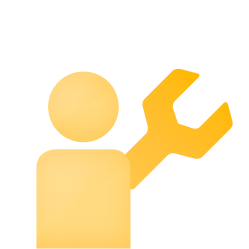 Alternative for a load balancer in your Cisco network
One of the consequences of using Extension Mobility in a Unified Communications environment, is the need for expensive Load Balancing Functionality. Fortunately, our Active Login Manager solves that problem.
Configuration of the Service-URL for the EM Server?
If Extension Mobility is used in a network, a so-called Service-URL must be configured that points to a specific Call Manager server that supports the EM service. That particular Call Manager server will then be contacted for the EM login and logout actions.
Within a CallManager Cluster often a minimum of two, but typically 3 to even 20 different servers run an active Extension Mobility instance. The Service-URL, however, can only point to a one of these servers.
The need for a load balancer
This means that there is no redundancy. If the configured server is for some reason not available, an Extension Mobility user cannot log in or log out from the telephone at his desk.
IT operations departments often solve this problem by implementing load balancing functionality in the network. A Load Balancer does exactly what it's name suggests. In situations where traffic preferably should be distributed over multiple servers, the load balancer takes care of this task. For example, to increase the number of concurrent users that can be served by an application. But also to ensure reliability and availability, since load balancers typically monitor the "health" of applications and only send their requests to servers that can handle the request.
In a CUCM environment, one doesn't need load balancing for the regular call handling – SIP and SCCP signaling have embedded load balancing mechanisms – but for the EM functionality it may be an essential requirement.
The problem is that there are no cheap load balancers. Investment for a load balancer typically starts at several thousands of euros. Which is quite a large investment to support just a small part of the overall VoIP features.
Alternative for an Extension Mobility load balancer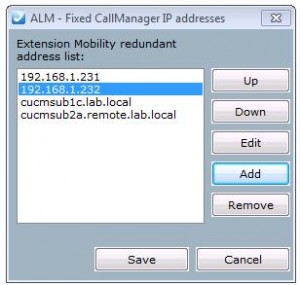 Fortunately, investment in a load balancer is not necessary if you implement the Active Login Manager. In ALM it is possible to configure multiple server addresses to handle the Extension Mobility login and logout requests. With these configuration capabilities you don't need a separate investment in load balancing equipment. Active Login Manager is not only the tool that simplifies the login procedure for Cisco IP telephones . It also is a very cost-efficient alternative for load balancers.