Business Connector
Business Connector
The Business Connector is an integration platform which facilitates seamless co-operation between advanced business applications and Cisco Unified Communications Manager (CUCM) platforms. The platform hides the complexity of the CUCM from your developers. The Business Connector shortens development times and reduces development costs. Also, there is no need to invest in a separate test environment.
Examples of supported Unified Communications applications
The Business Connector takes care of all the interfacing complexity between the business application logic and the technical resources (call manager, devices etc.) within the CUCM domain. Examples of supported applications are:
Contact Center scheduling and planning applications. Per allocated shift a device is automatically signed in and loaded with the agent settings. Relevant usage data can be registered and processed for management reports and analytics.
Hoteling applications for flexible workspace providers, where business professionals and companies rent desks or meeting rooms for a limited period. The rental process is fully automated, including the remote configuration of the desktop business telephones.
Hospital applications where communication facilities can be temporarily assigned to patients.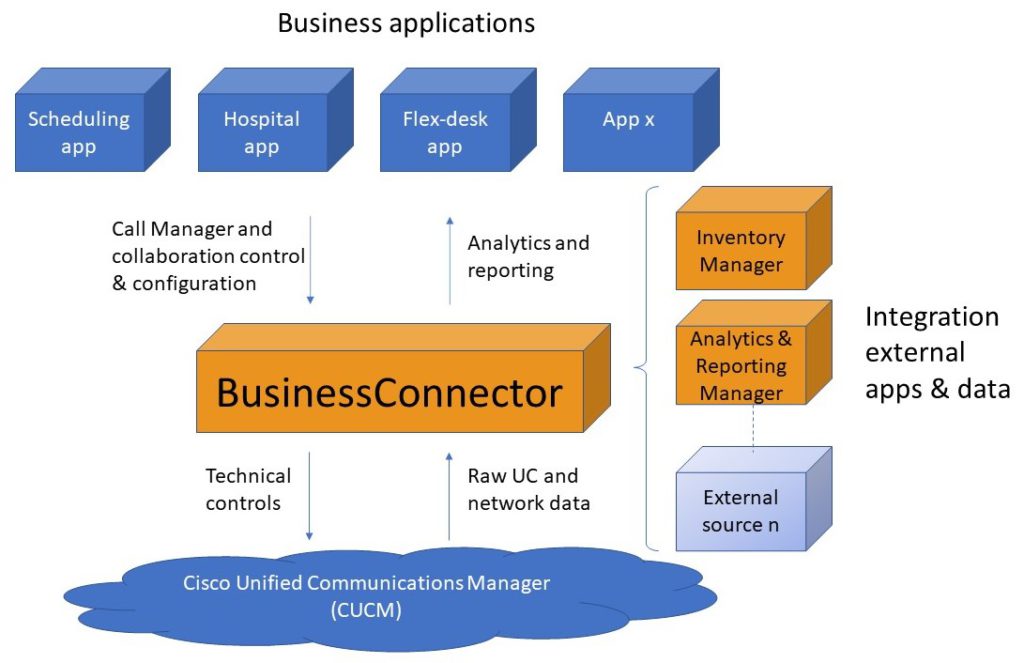 Benefits of the RSconnect Business Connector
By deploying the BusinessConnector solution, software development teams can focus on developing business applications with only basic knowledge of the Cisco infrastructure and services. This delivers substantial benefits:
Fast time to market. The BusinessConnector API is easy to comprehend for non-UC developers.
Smaller development costs. Faster development times typically result in cost reductions. This effect is amplified by the fact that you can work with the existing developers. There is no need to hire expensive unified communications experts.
There is also no need to invest in a complex test environment. Typically, when developing business applications on top of a unified communications platform, you will need an inhouse test lab to verify all use cases. Our solution hides the complexity and consequently reduces the test requirements. You can use your existing testing resources.
Additional integration possibilities
The basic Business Connector acts as a technology bridge between the CUCM domain and business applications. The solution can also be extended with other sources, like network data from network management solutions. For example, the Business Connector can co-operate with the RSconnect Inventory Manager and the Analytics and Reporting Manager. Developers get a well-filled toolbox to integrate any type of business applications and CUCM platforms.