Forwarding Assistant
Forwarding Assistant - Easy Call Forwarding for Cisco Telephones
The Forwarding Assistant simplifies the use of the Cisco call forwarding feature. It brings two sigificant benefits for organizations using Cisco desktop telephones and/or Jabber:
Users are no longer bound to the manual Cisco keypad activation to forward calls. They now automatically activate call forwarding each time their computer is switched off or enters standby mode.
Users won't miss any calls to their desktop phones anymore. As soon as they close their computer and leave their desks, calls are forwarded to their mobile or another extension.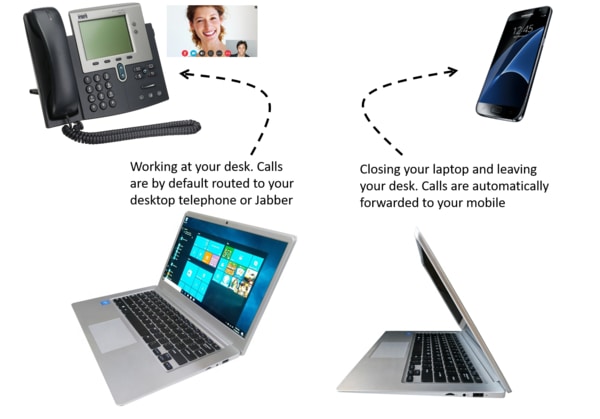 Call Forwarding functionality
The Forwarding Assistant is a smart client application installed on the users computer or laptop. It works in conjunction with both desktop telephones and Jabber and can easily be configured by clicking on the application icon. The application works as follows:
As long as the computer or laptop is active, incoming calls are routed to their default destination in the Cisco network, i.e. a desktop phone or jabber client.
As soon as the user switches off the computer (or it goes into standby mode), calls are redirected to (for example) his mobile. The user can configure this once and it will always work like this.
Benefits over Call Forwarding No-Reply
The Forwarding Assistant has a significant benefit over the 'No-Reply' feature. For No-Reply it has to be configured how long a phone rings before it is considered to be a no-reply and the call is forwarded. If this timeslot is configured to short, calls are forwarded to soon. If the timeslot is set to long, callers tend to unhook.
Combine Forwarding with Extension Mobility
The functionality can also be used in combination with our ALM application for Extension Mobility users:
In case the user works at his laptop the calls are automatically routed to the desktop associated with the flex-desk he is working at.
In case the laptop is closed or stand-by, calls are routed to his mobile.
ALM and the Call Forwarding Assistant works seamlessly together.
Installation and deployment
The Forwarding Assistant can be easily installed and configured on the end-user's laptop or computer. Are you rolling out the feature for large numbers of employees in your organisation? In that case, the RSconnect Application Manager is available for large-scale deployment. The Application Manager also organises the systems- and license management for this and other RSconnect features.